Sounds & Songs
This page is your one-stop source for downloading Christopher Reeve related Sounds and also brings together Lyrics from songs that have some meaning/connection to Christopher Reeve.
---
Sound Files to Download
Here is a list of sound files currently available for you to download: You may need to download software to play these MP3 sound files. For more information about MP3 files visit MP3.com.
---
Song Lyrics
List of Songs:
---
This Pretty Planet
On the 1995 Barbara Walters interview of Christopher Reeve and Dana Morosini, the song "This Pretty Planet" was used. The 1988 song is written by John Forster and Tom Chapin and is available on Tom Chapin's CD/tape Family Tree (Sony Wonder) and on the video This Pretty Planet.

The song, a duet with Judy Collins and featuring Chapin's daughters Lily and Abigail, has become an unofficial Earth Day anthem and a staple in schools nationwide. The wife of Discovery pilot Steven Lindsay chose it to be played November 1, 1998, to wake up John Glenn and his fellow astronauts during the third full day in orbit for the space shuttle Discovery crew.

Lyrics:

This pretty planet spinning through space,
You're a garden, you're a harbor, you're a holy place,
Golden sun going down,
Gentle blue giant spin us around,
All through the night, safe 'til the morning light.
---
© 1988 Limousine Music Co. & The Last Music Co. (ASCAP)
---
Grateful
This song by John Bucchino was sung by Dana Reeve at the Coming Around Again tribute to Christopher Reeve held in the McCarter Theatre, Princeton, New Jersey, on January 12, 1997 and at an American Paralysis Association fundraiser later that year. Excerpts of Dana singing this beautiful song were played on national television and aroused considerable interest. According to Songfile, Grateful can be found on several CD's, most notably, Across America by Art Garfunkel.

Lyrics: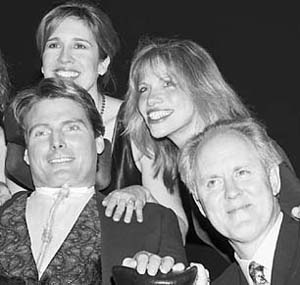 I've got a roof over my head.
I've got a warm place to sleep.
Some nights I lie awake counting gifts
Instead of counting sheep.
I've got a heart that can hold love.
I've got a mind that can think.
There may be times when I lose the light
and let my spirit sink.
But I can't stay depressed
When I remember how I'm blessed.
Grateful, grateful, truly grateful, I am.
Grateful, grateful, truly blessed
and duly grateful.
Within a city of strangers,
I've got a family of friends.
No matter what rocks and brambles fill the way,
I know that they will stay until the end.
I feel a hand holding my hand.
It's not a hand you can see.
But on the road to the Promised Land,
This hand will shepherd me.
Through delight and despair.
Holding tight and always there.
Grateful, grateful, truly grateful, I am.
Grateful, grateful, truly blessed
and duly grateful.
It's not that I don't want a lot
Or hope for or dream of more
But giving thanks for what I've got
Makes me happier than keeping score.
In a world that can bring pain,
I will still take each chance.
For I believe that whatever the terrain
our feet can learn to dance.
Whatever stone life may sling
We can moan or we can sing.
Grateful, grateful, truly grateful, I am.
Grateful, grateful, truly blessed
and duly grateful.
Truly blessed and duly grateful.
---
In The Gloaming
Below are the lyrics to the song In The Gloaming sung by Dana Reeve at the end of Christopher Reeve's directorial debut from the film of the same title.

Written by Anne F. Hamson & Meta Orred
Performed by Dana Reeve

Lyrics:

In the gloaming, oh my darling,
When the lights are dim and low,
And the quiet shadows falling,
Softly come, and softly go.

When the winds are sobbing faintly,
With a gentle lull of woe,
Will you think of me and love me,
As you did once long ago?

In the gloaming, oh my darling,
Think not bitterly of me,
Though I passed away in silence,
Left you lonely, set you free.

For my heart was crushed with longing,
What had been could never be,
It was best to leave you thus dear,
Best for you, and best for me.
---
I Believe I Can Fly
Below are the lyrics to the song I Believe I Can Fly taken from the 'Space Jam' soundtrack. This song was performed by R.Kelly as part of Christopher Reeve: A Celebration of Hope benefit, broadcast on US TV in 1997.

Written, performed, and produced by R.Kelly (Zomba & Jive Records)

Lyrics:

I used to think that I could not go on
And life was nothing but an awful song
But now I know the meaning of true love
I'm leaning on the everlasting arms

If I can see it, then I can do (be) it
If I just believe it, there's nothing to it

I believe I can fly
I believe I can touch the sky
I think about it every night and day
Spread my wings and fly away
I believe I can soar
I see me running through that open door
I believe I can fly
I believe I can fly (Oh)
I believe I can fly

See I was on the verge of breaking down
Sometimes silence, can seem so loud
There are miracles in life I must achieve
But first I know it starts inside of me

Could I believe in it?

If I can see it, then I can be it
If I just believe it, there's nothing to it

I believe I can fly
I believe I can touch the sky
I think about it every night and day
Spread my wings and fly away
I believe I can soar
I see me running through that open door
I believe I can fly
I believe I can fly (Oh)
I believe I can fly
---
Now and Forever
Words and Music by Carole King
Performed by Dana Reeve on January 12, 2006 for former New York Rangers captain Mark Messier during a pregame ceremony to retire Messier's No. 11
Now and Forever
You were a part of me
And the memory cuts like a knife
Didn't we find the ecstasy
Didn't we share the daylight
When you walked into my life
Now and forever I will remember
All the promises still unbroken
And think about all the words between us
The never needed to be spoken
We had a moment
Just one moment
That will last beyong a dream, beyond a lifetime
We are the lucky ones
Some people never get to do
All we got to do
Now and forever
I will always think of you
Didn't we come together
Didn't we live together
Didn't we cry together
Didn't we play together
Didn't we love together
And together we lit up the world
I miss the tears
I miss the laughter
I miss the day we met and all that followed after
Sometimes I wish I could always be with you
The way we used to do
Now and forever
I will always think of you
Now and forever
I will always be with you
---

News Reports | Biography | Fundraising | Online Shop | Autobiography
Movie Reviews | Contact Info | Have Your Say | Photo Gallery | Song Lyrics
Transcripts | Mailing Lists | Interviews | Other Websites | About Us | Search
---
This page is Copyright © 1999-2005, Steven Younis. All Rights Reserved
---
Jump to Steven Younis' unofficial Superman Homepage