On-line Book & Video Shop
Your one-stop on-line shop for Christopher Reeve related Books, Audio CDs and Cassettes, Videos and DVDs.
[Last updated February 17, 2014]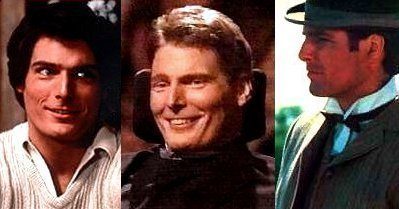 INTRODUCTION
Please Note: All links to external web pages (i.e. Not within this site) will be opened up in a new Browser Window on top of the Christopher Reeve Homepage. Once you've finished reading the external web page, all you need to do is close that Browser Window and the Christopher Reeve Homepage will still be there.
---
Christopher Reeve Foundation Superman Tag
Christopher Reeve redefined courage and hope. His strength, determination, and compassion inspired the world. He is our hero. Today, the Christopher Reeve Paralysis Foundation proudly introduces the Christopher Reeve Foundation Superman Tag. This special offer is your opportunity to pay personal tribute to Christopher Reeve's incredible legacy. By wearing the Superman Tag, you will help assure that Christopher's vision will Go Forward.

Each order comes with one 24-inch chain and one clip, along with two Christopher Reeve Foundation Superman Tags. So, the Superman Tags can be worn around the neck, or clipped onto gear, sports equipment, purses, or book bags. All proceeds from the sale of the Superman Tags go to the Christopher Reeve Paralysis Foundation. Please purchase the Superman Tag to show your support of Christopher Reeve's vision and the mission of his Foundation.

For more information on the Christopher Reeve Paralysis Foundation visit www.ChristopherReeve.org.
---
INTRODUCTION
The (unofficial) Christopher Reeve Homepage in association with Amazon.com Books is pleased to bring you the Christopher Reeve On-line Book & Video Shop! Buying books relating to Chris has never been easier!

This is a selected listing of books and other material relating to Christopher Reeve. Most of these books are available for you to buy either on-line using secure transaction measures, or off-line using traditional methods of payment.

Items whose titles are highlighted as a link are available for purchase. Just click on the title of the item you wish to buy.
---
BOOKS FOR SALE!
Please note that the books whose titles are highlighted (e.g. Links) are available for purchase. Just click on the title to find the latest price and to place your order.
To the top
---
CDs AND CASSETTES
To the top
---
VIDEOS
To the top
---
DVDs
To the top
---
Blu-Rays
Somewhere in Time (Blu-ray + Digital HD with UltraViolet) (1980)
Actors: Christopher Reeve, Jane Seymour, Christopher Plummer, Teresa Wright, Bill Erwin
Directors: Jeannot Szwarc
Writers: Richard Matheson
Producers: Stephen Deutsch
Format: Blu-ray, Color, Dubbed, Extra tracks, NTSC, Widescreen
Language: English (DTS-HD Master Audio 2.0), French (DTS-HD 2.0)
Dubbed: French
Subtitles for the Hearing Impaired: English
Region: All Regions
Aspect Ratio: 1.85:1
Number of discs: 1
Rated: PG (Parental Guidance Suggested)
Studio: Universal Studios
DVD Release Date: March 4, 2014
Run Time: 104 minutes
ASIN: B00HEEAM94
To the top
---
SEARCH
If you can't find the item you're looking for, then enter the title, author, ISBN or Keyword(s) into the Search Engine below, to search through the millions of items available through Amazon.com.
---

The official Somewhere in Time Homepage has the following videos available for purchase:
"A Star for Christopher Reeve" and
"Christopher Reeve Returns to Mackinac Island".
---

News Reports | Biography | Fundraising | Online Shop | Autobiography
Movie Reviews | Contact Info | Have Your Say | Photo Gallery | Song Lyrics
Transcripts | Mailing Lists | Interviews | Other Websites | About Us | Search
---
This page is Copyright © 1999-2013, Steven Younis. All Rights Reserved
---
Jump to Steven Younis' unofficial Superman Homepage