Rear Window (1998)

Character Name: Jason Kemp

---
Reviewed by Joyce Kavitsky (Kavitsky1@verizon.net)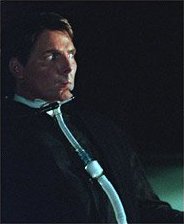 This role marks the return of Christopher Reeve, for the first time since his 1995 Memorial Day accident, as the leading man. The film is also groundbreaking in the way that this is the first time a severely disabled person is given the starring part. "What is unique is to take somebody who is severely disabled," Reeve said, "and show them in a very positive light and actually cast them as the hero of the piece." Reeve added, "I think that's the message, to see how much somebody in my condition can do both in the use of their wits and the use of all the latest assisted technology." The film is based on the Cornell Woolrich story that was turned into the 1954 Alfred Hitchcock thriller, Rear Window, starring James Stewart and Grace Kelly about a photographer confined to a wheelchair with a broken leg who spies on his neighbors using binoculars. This made-for-televison remake, with chilling music by David Shire, is an updated version that premiered on November 22, 1998 as an ABC Sunday Night movie of the week with Reeve starring as an architect paralyzed in a car accident who watches people in a neighboring apartment building. The cast also includes Daryl Hannah (Splash), Robert Forster and Ruben Santiago-Hudson.
The plot of this updated thriller goes like this: Jason Kemp (Reeve), an architect who is severely injured in a car accident is left a quadriplegic, paralyzed from the neck down, unable to breathe on his own. After surgery he meets Charlie Moore (Forster), a detective assigned to investigate the car crash. At the rehab center where he's learning to live his life in a brand new way, he learns that it can be terrifying when his breathing vent "pops off," disconnecting his air supply. Six months later Jason is preparing to leave the rehab center after working with a respiratory therapist learning to breathe "off the vent." He also learned to walk on a treadmill suspended by a winch with Antonio Fredericks (Santiago-Hudson) assistance among others. Jason's ex-wife, Leila comes to visit and discusses with him the high cost of living at home as a C-2 quad. "Costs a fortune to be disabled in this country," Jason bitterly comments to her. Dr. Schneider, head of Spinal Cord Injuries Department at the hospital, congratulates him for the considerable progress he has made and tells him that he deserves a rest. Rest? Jason Kemp won't hear of it. "I've done the research," Jason says. "They're this close to a cure for spinal cord trauma. Time comes, I intend to be ready." Jason hires Antonio away from the hospital to work with him. The drive from hospital to home is terrifying for Jason. Once home, he has an uneasy meeting with his architect partners who tell him that the big project he'd been working on before the accident has been assigned to Claudia Henderson (Hannah) a "new girl."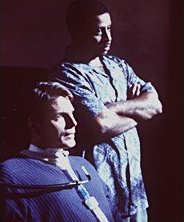 With time on his hands, he has an opportunity to study his neighbors' apartments across the way in an adjoining building. He is intrigued the most by the sculptor and his wife, an alcoholic blonde. Jason's master bedroom is high-tech with a bed designed specifically for a C-2 quad; an Environmental Control Center next to the bed which controls the television and VCR; and Antonio's phone and beeper are hot-wired to Jason's computer. When he meets Claudia, the professional colleague he believes usurped is projects, it's uncomfortable. While watching his neighbors across the way he witnesses an animated fight between the sculptor and his wife and later notices the sculptor conducting an illicit affair via e-mail. When the wife notices another fight follows. Antonio offers to install a "personal surveillance device which will get you that all-important bird's-eye view." Later, after Antonio left, Jason witnesses Round Three of the fight across the alley. It's so nasty that he voice-activates a call to 911 through his computer. When the police come they take the sculptor to jail, even though the abused wife pleads with them not to. Antonio installed a television camera and monitor in Jason's bedroom as he said he would. After the sculptor was released from jail, he tries to figure out who reported him to the police when he spots Jason and stares at him hatefully.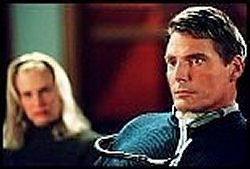 Thanks to some online detective work he learns the name of his neighbors: Julian and Ilene Thorpe. Later on, while trying to sleep, he hears shouting, cursing, screaming and then silence from across the alley. This time he is certain that a murder has been committed. Claudia urges him to ignore what's happening across the way, but he is sure the sculptor killed his wife this time. Detective Moore says, "There's no body, no witnesses, no evidence whatsoever that a crime has been committed." and suggests that Jason hallucinated the whole scenario. Moore does question Thorpe and gets the sculptor's story that his wife has left to go to her sister's place in Rhode Island for a few days of peace and quiet. He says there are witnesses to his wife's early-morning departure. Meanwhile, Antonio shares with Jason his sense that Claudia is falling in love with him. During another spying session, Jason is startled when he sees what appears to be the sculptor's wife (whom he was sure had been murdered) passionately kissing her husband. After further examining he tells Claudia that he's sure the wife isn't really the wife. Close - but not the same woman. Jason admits that he's obsessed by the situation suspecting that Thorpe disposed of his real wife's body by shipping it off in a sculpture. But to take his one man investigation further, he needs Thorpe's e-mail address. So Claudia visits Thorpe posing as a potential buyer of a sculpture and after a scary cat-and-mouse search, she obtains his e-mail address and determines that Ilene Thorpe's jewelry and perfume have been put away and replaced by another woman's. Jason then sends Thorpe this message: "I want to nail you pal. I want to make you pay for what you've done. I want you to lie awake and wonder when they're coming to get you." The final act includes a terrifying encounter between Jason and Thorpe, who breaks into Jason's apartment and severs his life- line, the tubing that provides air to his breathing system. Jason is then forced to breathe on his own which he can do for only so long...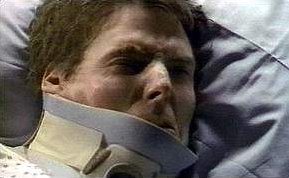 My favorite parts in this Hitchcock remake are ones that were mostly light moments. They include Antonio driving Jason home from the rehab center while Jason is complaining that he is driving too fast; Claudia innocently bringing a bag of groceries to Jason's apartment for his nurse Allison to prepare dinner for them since she doesn't know how to cook, and Jason says after asking her if she could boil water: "Oh no, we're going to starve!;" the naughty look on Jason's face when he was watching the woman hook her bra in the apartment across the way during the first night. About that scene Reeve said, "At first he smiles, but then you see this pure longing on his face. You see his pain: How part of his life is gone for good. It was just me thinking those thoughts, and the camera picked them up." Another favorite scene of mine is a more serious one. It is the scene where Jason has a "pop off" and the nurse on duty can't find it. I like this scene because while filming one of the six or eight takes that covered every angle, the actress who played the nurse had unexpected sudden terror causing anxiety that made the scene more convincing. Reeve told Barbara Walters about the scene in a 20/20 interview: "And just before we did the scene, I said to everyone in the room, 'We'll be doing this for real.' Well, the young actress actually who plays the nurse is not really a nurse and she went out into the hallway and had a total panic attack." It is not known whether that take actually made it to the final cut of the film though. The part where Jason was conversing with the villain by e-mail also struck me as funny by the way Jason was acting impatient after he wrote this gutsy note to him: "I know that woman's not your wife. I know what you did. I know who you are and you won't get away with it." Finally, the showdown between Jason and the villain reminded me of the showdown in Deathtrap between Clifford and Sidney in the way that they were in pursuit of each other in a fight to the death.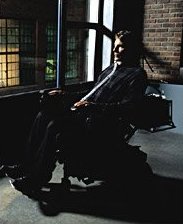 Even though he made a cameo in the 1996 television movie A Step Toward Tomorrow and directed HBO's Cable Ace award-winning 1997 short film In The Gloaming, Reeve felt that acting in Rear Window was more difficult than directing In The Gloaming. Ironically, ABC and Hallmark Entertainment bought the television rights to Rear Window before Reeve's accident. About doing the movie Reeve said: "When it was discovered that I would be fairly mobile, ABC had the idea to cast me, and we worked out a deal in which I would be able the star in it and also be the executive producer." Unlike his other roles, Reeve did no research for this part. He said: "If I had been on my feet, playing this part would have meant a research assignment. But I come to the part already with the given circumstance in place." Reeve felt challenged by this role as he says "The challenge of this role was the limitations that I have physically. Really, all I have to work with is my face and voice." As the executive producer Reeve worked closely with Eric Overmyer, the teleplay-writer, "I gave him a lot of details about daily life in a wheelchair," says Reeve. "I also gave him access to my physiatrist and the therapists at the Kessler Rehabilitation Institute. He really did his research, so while his script has tremendous tension, the extra dimension is that people will know I'm not just acting." In fact, Jason's physical therapy was modeled on Reeve's own most recent breakthrough: walking with assistance on the treadmill. Director Jeff Bleckner said this about the rehab scene with the treadmill, "While we were filming that scene, his daughter was there, and she had never seen him do that. He does that now weekly." The character of Antonio, Jason's assistant, is also based on Reeve's real life Jamaican friend Glenn "Juice" Miller who he tried to hire away from Kessler, but couldn't.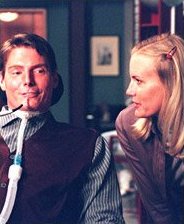 With this role, Reeve wanted to act again and also show viewers how he is doing personally as well as show what a person in his condition can do. Reeve said: "Since I was executive producer on the project, I had a great deal of control over every aspect of the production and didn't feel exploited in any way. I developed the script and was involved with casting, picking locations and the key crew." In fact, Reeve brought to the project Steven Haft and executive producers David V. Picker and Robert Halmi, Jr who represented Hallmark. He added: "I wanted to show what a person in my condition can do - that was the reason for making the movie. Everybody realized that this was really an important project for me, not only personally, but on behalf of disabled people all over the country. All the technology used is real and available today." For the movie, Reeve's own wheelchair was used as he says: "That was my own wheelchair. You can pull up to the elevator and activate a sensor...I have a voice-activated computer, but I have such a volume of correspondence I have to admit I cheat - I have an assistant."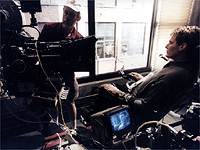 Rear Window was filmed on location in New York at Reeve's regular spinal cord rehab center in White Plains and in Yonkers in two old converted Otis Elevator warehouses 40 minutes away from Reeve's house during the summer of 1998 on a rigorous 26 day filming schedule. Before shooting the film, Reeve's doctors told him he could only work between 3:00 p.m to 11:00 p.m. Even though his contract called for a short day, Reeve extended his hours from 12:30 p.m. to 1:00 a.m. and stayed every night until all the scenes were done because as executive producer he realized the schedule his doctors recommended would put the production four days overbudget. Reeve said, "Most nights I was getting to bed at 4:00 a.m. and I had to leave for the set again at noon. I wake up at 8 and do my exercises. Surprisingly, the harder I worked, the better I felt, and I actually was in better shape in spite of the lack of sleep, and the long hours. I have much more endurance now." To help him prepare for the film, Reeve's 15-year-old daughter Alexandra helped him memorize lines everyday.
On the set Reeve reached a milestone of his own: to speak without being plugged into the ventilator. In the scene where the villain pulled off his ventilator, Reeve, in real life can go about a half hour without it but has never been able to talk without it and found the energy to say the words in the script. Reeve says "I don't know why, but I was able to get out the words. I've been an actor for 28 years, and the script said I needed to say those words. Maybe that got me to do it." In order for the director to tell the difference between the character Jason being in distress and the real thing, Reeve and Bleckner decided that sticking out the tongue would be the signal for May Day since the clicking sound that Reeve makes to alert a nurse is already considered "business." During the making Reeve also worried that he wouldn't be able to get his lines out on cue. He said: "In order to keep the dialogue flowing in a scene, each person needs to come in on cue, and yet I can only speak when the ventilator gives me a breath of air. I often worried that I would hold up a scene while I was waiting for air to come from the ventilator. I guess I just got lucky. I was able to keep the conversation going." The makers took a great amount of effort to present Reeve's disability accurately, even rearranging a set to avoid having him try to get into his wheelchair from the wrong side.."I can only get out of the left side of my wheelchair," Reeve explains, "but the scene was lined up for me to go out the right side. I said, 'It can't be done.' The director of photography graciously reset the shot. I was very pleased that everybody I worked with on this wanted to get it right."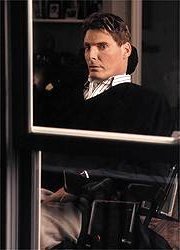 Even though the two Rear Windows are noticeably different, there are still some similarities. For instance, in keeping to the tradition of Alfred Hitchcock making cameos in his films, Bleckner also makes a cameo in his Rear Window as a chef in a brief party scene. Reeve's youngest son, Will, can also be seen in a brief cameo as the boy shown catching the ball at the rehab center. Before doing the remake, Reeve felt it was not necessary to watch Hitchcock's Rear Window again even though it has always been one of his favorite movies. Reeve said: "I think it's better just to make the script you have in mind, rather than to look back." Reeve continues: "In a way, you can hardly compare these two movies. The only similarity is in the loneliness of the main characters, which brings them over to the window." Bleckner says, "Instead of being a remake, our movie really is a retelling. It's a different story, because at least a third of the film is the story of this man putting his life back together again." In an editorial Reeve wrote to The Washington Post that was published on December 3, 1998, he refuted a negetive review against himself and the movie. Reeve said: "We titled our film 'Rear Window' to avoid any accusations of plagiarism because part of our plot involves a disabled man who spies on his neighbors and concludes that a murder has been committed. I was not trying to imitate Jimmy Stewart, nor was Daryl Hannah trying to be Grace Kelly."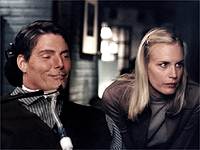 Reeve thinks his role will increase opportunities, and hopes it leads to a time when disabled characters have no special meaning but are simply characters. "We're getting used to minorities and women in responsible positions and viewers think nothing of it. It would be great if we could get to the same point with the disabled." To further lessen the gap between disabled and undisabled people he also insisted the script have Claudia attracted to Jason creating a mutual sexual tension. Reeve said: "She is attracted to him and he can't believe it. This is a very common phenomenon, where somebody is very severly injured thinks, 'Why would a woman want me?' Reeve adds: "But the fact is that what you see at the end of the movie is plausible and happens all the time, which is wonderful."
Currently Rear Window is available on home video. After it aired the American Paralysis Association had to add more phones because of the overflow of viewers making contributions at their 1-800-225-0292 number. Reeve reported to gossip columnist Army Archerd, the day after the film aired, that he is getting congratulatory calls "from everywhere" and credits Rear Window as being more effective than a documentary in aiding the disabled. Reeve was also nominated for this role by the Hollywood Foreign Press Association's 56th Annual Golden Globe awards in the category "Best Performance by an Actor in a Mini-Series or Motion Picture Made For Television" and won a Screen Actors Guild Award, The Actor, in the category of "Outstanding Performance by a Male Actor in a Television Movie or Miniseries."
REVIEWS
Reeve, who proves here that he hasn't lost any of his screen charisma, probably saw this role as an opportunity to mentally escape from the confinement of his wheelchair (much like his character uses the murder). And for a couple of hours he helps us mentally escape from our couches. Len P. Feldman, GIST TV, November 10, 1998.
Reeve is sensational in a role (his first since the 1995 equestrian accident that left him a quadriplegic) that's so intensely personal it took real courage for him to undertake it. Ray Richmond, Variety, November 18, 1998.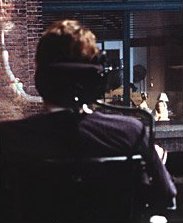 And then there's acting. Because Rear Window fancies itself a suspense thriller, Reeve was asked to show emotional complexity -- which he pulls off. And I have to admit to being moved by the half-dozen smiles he flashes when showing happiness and hope, the lowered eyebrows when upset, the blank stare of fear right before Daryl Hannah leans over and plants a wet one on him. Ken Parish Perkins, Star-Telegram, November 19, 1998.
Undeniably, Reeve faces great limits as an actor. His movements are restricted, and his voice has lost some of its range and power (though it's far more expressive here than it has been in some recent TV interviews). But Reeve has learned to use what he still has to great effect, and he turns in a fine, sometimes deeply affecting, performance. Robert Bianco, USA Today, November 20, 1998.
Reeve's 1995 horseback-riding accident has left him with a limited acting vocabulary--his faint voice occasionally cannot pull off the romantic byplay between Jason and (in the Grace Kelly role) a restrained Daryl Hannah. On the other hand, Reeve's real-life tragedy lends true fear to the scene in which the bad guy (Ritchie Coster) cuts off Jason's air-supply tube. But the problem here isn't Reeve's performance so much as it is the slack, awkwardly updated, and frequently confusing teleplay by Eric Overmyer (Homicide: Life on the Street) and Larry Gross (48 HRS.). Ken Tucker, Entertainment Weekly, November 20, 1998.
Most important is Reeve, whose acting here is much more emotional than merely functional...Reeve, also one of the show's executive producers, should be very proud. Despite the obstacles he had to overcome, he has delivered the most entertaining special offering of the entire November sweeps. David Bianculli, New York Daily News, November 20, 1998.
That malfunction -- it's called "a pop off" -- was a moment from life for Reeve. That and the many other scenes of the painful therapy and the technological marvels that make it possible for Reeve and this movie hero to use only his voice to deal with the needs of everyday living. And for Reeve himself to give such a remarkable performance as star of this taut well-written drama. Ann Hodges, Houston Chronicle, November 20, 1998.
Reeve, meanwhile, shows here he's hardly out of the acting game. He does much with mere facial movement. He shows that technique doesn't require wild action. Bruce R. Miller, The Sioux City Journal, November 20, 1998.
Though "Rear Window" has been solidly directed by Jeff Bleckner ("Serving in Silence: The Margarethe Cammermeyer Story") from a script by Eric Overmeyer ("Homicide: Life on the Street"), it's the unique presence of Christopher Reeve that sets the film apart from other TV-movie suspense dramas. Mike Duffy, Detroit Free Press, November 20, 1998.
Reeve is as charismatic as ever and possibly even more so. He has a luminous smile and he lets his eyes speak for his body. Louis B. Hobson, Calgary Sun, November 21, 1998.
Reeve has carried out this starring role with grace before a rapt global audience that understands his victories are theirs...The truth of his portrayal is indisputable, and any able-bodied actor might very well have chosen to play Jason in the same way. Frazier Moore, Associated Press, November 21, 1998.
What Reeve is is confident, charming and funny. Smartly making himself something other than a saint, he is prickly at times, too, and, overall, brimming with personality although he is, quite literally, a talking head. Most important, Christopher Reeve... disappears into the role and reclaims his place as an actor. Steve Johnson, The Chicago Tribune, November 21, 1998.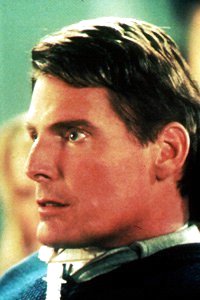 Reeve not only proves that great acting comes from the brain, but he manages to convey a full range of emotions -- sorrow, laughter, irony, fear -- with a twitch of an eyebrow, the movement of his eyes, the inflection in his voice. It's the best performance of his career, eclipsing anything he did as the movies' Superman. Terry Jackson, The Miami Herald, November 21, 1998.
Reeve's mature performance adds depth and poignancy to the story, and "Rear Window" is an ideal vehicle for the actor, combining a summary of his recuperation thus far with a juicy role that doesn't really require the suspension of disbelief. Burlington County Times TV Time, November 22-28, 1998.
Reeve spends a lot of time on camera -- obviously he has restored his physical endurance -- and his acting is a good as ever. Tim Feran, The Columbus Dispatch, November 22, 1998.
As for Reeve, he's sensationally right for this part, and certainly for others as well. Finding such parts won't be easy, but it will be everyone's gain if he does. Joanne Weintraub, Milwaukee Journal Sentinel, November 22, 1998.
Although 'Rear Window' was perfect the first time around, - 44 years ago - what Christopher Reeve brings to this remake and update is his gritty deternimation to communicate what it really feels like to be quadriplegic...We get the guilty voyeurism and the terrible suspense, but also the shock of recognition. There is a courage here that can't be scripted. John Leonard, Sunday Morning, November 22, 1998.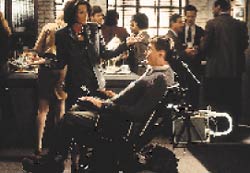 Any faults are not Reeve's. Playing architect Jason Kemp, left a quadriplegic by an auto accident, he acts with his eyes, his voice and even his breath, and is extremely effective. Gail Pennington, St. Louis Post-Dispatch, November 22, 1998.
The remake follows an essentially similar plotline under the direction of Jeff Bleckner (Concealed Enemies), but when the climax comes, Reeve's quadriplegia makes him especially agonizingly vulnerable. He's acting and being, and the suspense is certain to have you squirming. Terry Kelleher, People Weekly, November 23, 1998.
Reeve is touching, in part, because the role echoes his own story, but his talents seem undimished, and his performance is very appealing in its own right. James Collins, Time, November 23, 1998.
Despite his physical limitations, Reeve is still a solid actor. His handsome face and expressive eyes convey an impressive array of emotions. He's even mastered the challenge of delivering his lines despite the need to breathe through a straw after every few words. If there were more roles for him, he could surely resurrect his career. Marc Peyser, Newsweek, November 23, 1998.
Reeve's portrayal of an architect who is paralyzed as a result of an auto accident was brilliant, not only because Reeve is a superb actor but also because he knows about disability firsthand. Richard Epstein, The Record Online, November 29, 1998.
---

News Reports | Biography | Fundraising | Online Shop | Autobiography
Movie Reviews | Contact Info | Have Your Say | Photo Gallery | Song Lyrics
Transcripts | Mailing Lists | Interviews | Other Websites | About Us | Search
---
This page is Copyright © 1999-2005, Steven Younis. All Rights Reserved
---
Jump to Steven Younis' unofficial Superman Homepage